Ductless Mini-Split Services in Maryland, Delaware & Pennsylvania
Ductless cooling and heating systems are a cost-effective, reliable, and energy-efficient HVAC solution for homeowners in Delaware, Pennsylvania, and Maryland. They will provide cool comfort in the summer and gentle heating in the winter.
Ductless systems are ideal for remodels, additions, and more. They don't require ductwork, so they can be installed in any space and are ideal for homeowners eager to zone their homes for more precise temperature control.
At Service Today, we proudly offer ductless mini-split installation, repair, and maintenance in Rehoboth Beach, New Castle, Ocean City, Easton, and more!
Contact Service Today online or call 844-844-0314 to discover the many reasons homeowners in Delaware, Pennsylvania, and Maryland are choosing ductless heating and cooling for their comfort!
What is a Ductless Mini-Split?
A ductless split system is a highly efficient zonal heating and cooling system that does not require air ducts. Ductless split systems have an outdoor unit that can accommodate up to eight inside units, which are linked by a refrigerant line.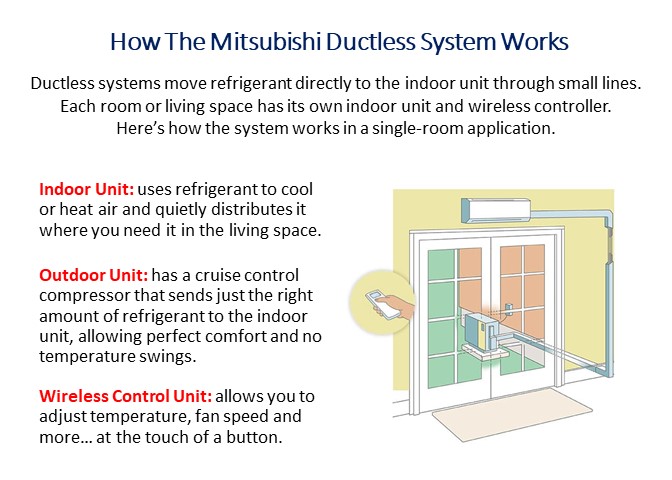 Why Go Ductless?

Ductless systems are the future of the heating and cooling industry and taking the country by storm. Ductless heating and cooling systems appeared in the U.S. market about two decades ago.
Advances in technology and efficiency have driven consumers to include these systems in the conversation in the selection of replacement heating and cooling systems.
Energy efficiency is key with a ductless split system:
Mini-splits are much more efficient than traditional HVAC units.
Mini-splits are up to 40% more efficient than window AC units.
Mini-splits allow comfort control in every room.
Ductless Mini-Split Installation & Replacement for MD, DE & PA Homes
Our team is always prepared to install and replace ductless mini-splits in your home. As a Diamond Elite Contractor, we highly recommend systems manufactured by Mitsubishi Electric.
Our certified, licensed, and insured HVAC technicians can install ductless cooling and heating units in any room. They're well suited for: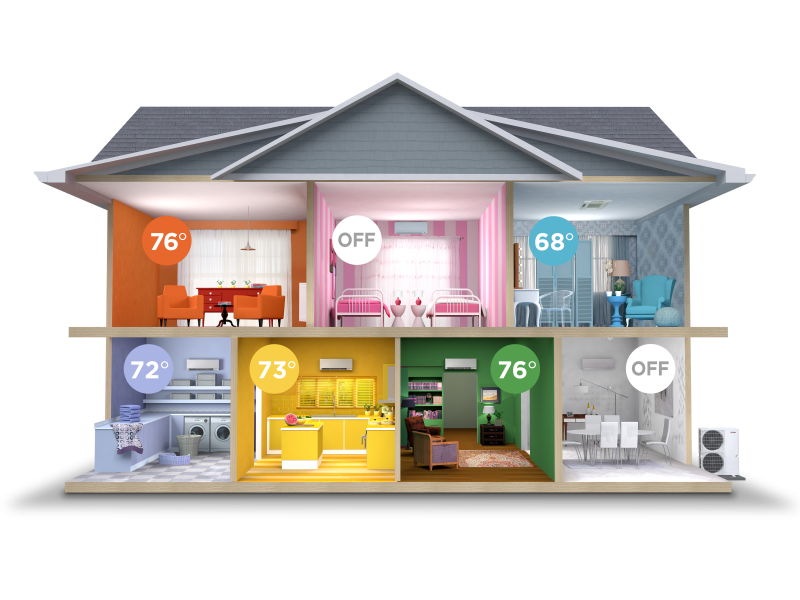 Bedrooms
Home offices
Garages
Attics
Sunrooms
Finished basements
And more!
Our team will help you determine the ideal installation site for your air handlers and outdoor unit. Our team will install the system, test it for operation, and show you how to achieve optimal system performance throughout the year.
Call 844-844-0314 or contact us online to schedule ductless mini-split installation in Delaware, Pennsylvania, or Maryland.
24/7 Emergency Ductless Mini-Split Repair Throughout MD, DE & PA
Mini-splits are sturdy and reliable, but they are not indestructible. Over time, components will wear out and fail if they're not properly maintained.
When they do, the certified HVAC technicians at Service Today have the expertise, tools, and components required to restore your ductless heating and cooling system to operational condition.
If you notice any of the following, we recommend scheduling ductless mini-split repairs right away. We're available 24/7 to respond to your call and can quickly diagnose and repair the following issues and more:
System short-cycling
Diminished airflow
Inconsistent heating and cooling capacity
Refrigerant leaks
Water puddles near the unit
Iced up coils
Grinding sounds
Foul smells
And more!
Call 844-844-0314 now for emergency ductless heating and cooling services. We'll send a technician to your home in Maryland, Delaware, or Pennsylvania the same day you call. 
Ductless Mini-Split Maintenance in MD, DE & PA
Biannual maintenance is essential for keeping your ductless mini-split in good repair. If you want to enjoy optimal heating and cooling efficiency, we recommend scheduling maintenance in the spring and again in the fall. This will:
Extend the serviceable life span of your unit
Prevent breakdowns and major repairs
Keep your system running efficiently
Ductless Heating & Cooling Maintenance Checklist
During a standard maintenance appointment, our certified HVAC technicians will perform a wide range of tasks, including:
Removing debris from around the outdoor unit
Checking and recharging refrigerant as needed
Inspecting and cleaning coils
Inspecting and testing the air handlers
Testing thermostat operation
And more!
Schedule ductless mini-split maintenance today by calling 844-844-0314 or contacting Service Today online.
Why Choose Service Today?
At Service Today, your satisfaction is 100% guaranteed! We offer a full range of ductless mini-split services in Delaware, Pennsylvania, and Maryland.
When you choose our team for your home service needs, our factory-trained technicians will always go above and beyond to provide the helpful, reliable, and cost-effective solutions you need for reliable comfort. Count on us for:
Financing options for new systems and repairs over $1,000
Same day service
24/7 emergency repair
Upfront pricing
Unmatched customer service
Contact us online or call 844-844-0314 for more information about our company and to schedule ductless heating and cooling services in MD, DE, or PA.
Frequently Asked Questions
How long is a ductless mini-split's life span?
Compared to a traditional HVAC system that relies on ductwork, a ductless split system generally has a longer life when maintained properly.
Heat pumps, air conditioners, and furnaces typically last for 15 years with proper maintenance, while a ductless split system's average life expectancy is 20 years with proper maintenance.
Is a ductless split system right for my home?
Ductless split systems are ideal for:
Older homes, sunrooms, and additions without ductwork
Replacing inefficient heating and cooling systems
Supplementing inefficient heating and cooling systems
Do ductless mini-splits need to be wall-mounted?
Good news! There are several indoor unit options so you can choose the one that's best for function and decor:
Traditional wall-mounted units
Floor-mounted or low wall-mounted units
Recessed ceiling units
$59
AC or Furnace Tune- Up
Expires 06/30/2023
Restrictions apply. Call for details.
$60 OFF
Any Plumbing Service
Expires 10/31/23
Restrictions apply. Call for details.
$60 Off
Emergency AC or Furnace Service
Expires 08/31/2023
Restrictions apply. Call for details.
We Are Never Closed
We are available 24/7 for emergency service.
Unmatched Customer Service
We go above and beyond to ensure your comfort and safety.
Highly Trained
Technicians
We are committed to excellence and continuing education.
Unparalleled Honesty & Integrity
We always maintain an open line of communication.
100% Satisfaction Guaranteed
We prioritize your satisfaction above all else.
Peace of Mind
We make it right...right now, so you can regain peace of mind.