About Us
Discover the Service Today Difference
When you call Service Today you will immediately experience the difference, no more waiting for someone to call you back! Your call is handled with care and expertise by highly trained staff. Our dedicated specialists are committed to providing the best customer service in the industry. We named our company "Service Today" because when a problem arises with your heating, air conditioning, plumbing, or electrical systems, you need service today—not in days or weeks.
Our Mission
At Service Today, Inc. we are committed to bringing you the most energy-efficient heating and cooling systems in the world! Through years of experience, we have aligned ourselves with the most trusted name in the industry, TRANE.
We Deliver Peace of Mind!
At Service Today honesty and integrity is at our core. We want all our customers to be completely comfortable with any of our specialists that perform work in their homes. To protect our customer's homes and our company's reputation, all Service Today employees must undergo complete background checks and drug testing.
We're Not Like The Others
We're always open! 24 hours a day, 7 days a week, 365 ¼ days a year! Any time you call us, you get a live person. No more "sorry we can't take your call right now" messages.
At Service Today, We Make It Right, RIGHT NOW! Give us a try: we're certain you'll be glad you did!
24/7 service (we're never closed!)
Unmatched customer service
Factory-trained technicians
Unparalleled honesty and integrity
100% satisfaction guarantee
We're TRANE Comfort Specialists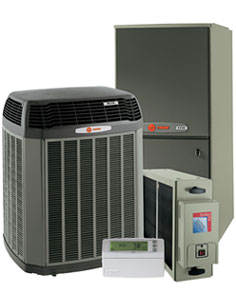 Although we service all types of heating and air conditioning systems, Service Today Inc. is a Trane Comfort Specialist™.
The Comfort Specialist logo indicates an independent Trane dealer of the highest standing—a dealer who is committed to excellence in every aspect of his business, from installation and service to customer satisfaction and employee training.
Not just every dealer qualifies as a Trane Comfort Specialist dealer. We must qualify for this status on a yearly basis by meeting Trane's standards for customer satisfaction and continuing education. When it's time to purchase a heating and air conditioning system for your home, look for the mark of a Trane Comfort Specialist dealer.
We offer a complete line of residential Home Comfort products that deliver dependable comfort and efficiency year after year. Trane home heating cooling systems are among the best value in the industry in every efficiency category.
No Interest November EXTENDED Through December!
0% APR for 48 months on qualifying Heating & AC Systems*
Expires 12/31/2023
*Restrictions apply. Call for full details.
Dryer Vent Cleaning
25% OFF
Expires 12/31/2023
Restrictions apply. Call for details.
$60 OFF
Any Plumbing Service
Expires 12/31/23
Restrictions apply. Call for details.