Outlet & Switch Services in the Mid-Atlantic Region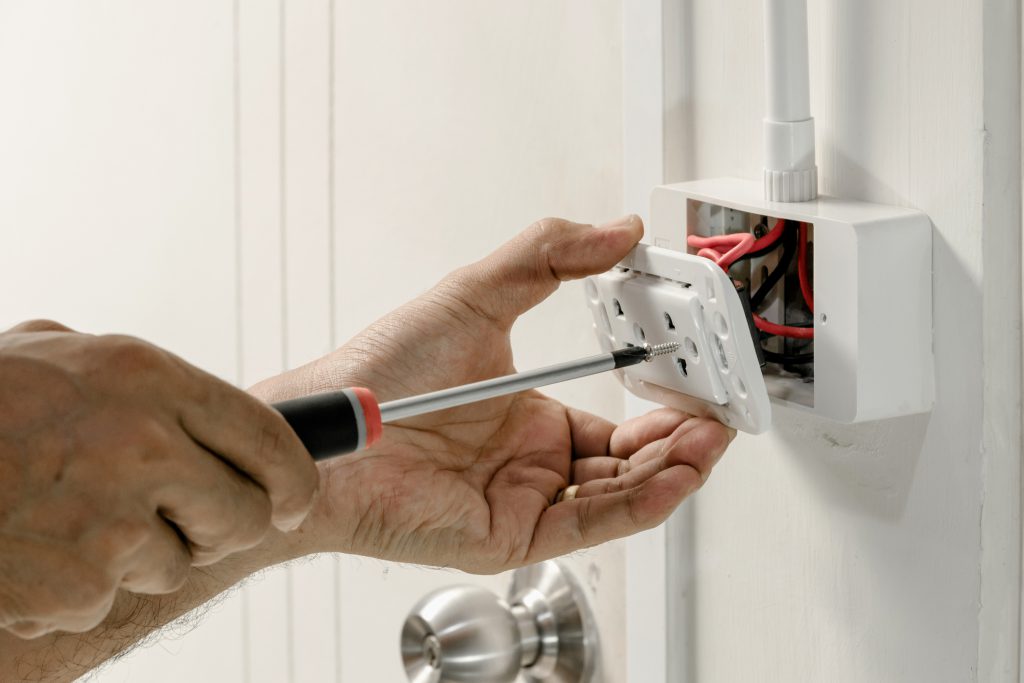 Over time, outlets and switches can break down and fail to function as they should. If your outlets or switches need professional attention, rely on Service Today Heating, Air Conditioning, Plumbing and Electrical for repairs. Our team has the tools and expertise required to fix outdated outlets and failing switches. We'll make sure that you have safe and reliable access to electricity all over your home.
For outlet and switch services, reach out to Service Today online or call 844-844-0314 to schedule services. 
Outlet Installation Services
Adding new outlets around your home can take the burden off your other outlets. Replacing old outlets can allow for the safer operation of your electrical devices. Turn to Service Today for outlet installation services. We can add new outlets or replace old ones anywhere in your home, including:
Bedrooms
Bathrooms
Kitchens
Living rooms
Dining rooms
Closets
And more
Add new outlets wherever you need them. Connect with us online or call 844-844-0314 to schedule outlet installation anywhere in the Mid-Atlantic Region.
Electrical Switch Repair
Over time, your electrical switches could break down and need repair. If your switches don't react quickly or spark when you flip them, it's time to call Service Today for assistance.
Our team can inspect the wiring of your electrical switches and repair or replace any part that needs servicing. When we're finished, you can rest assured that your switches are working correctly and safely.
Signs You Need Electrical Switch Repair
It's important to notice the warning signs of a failing electrical switch. A faulty switch could result in damage or fire if left unchecked. You may need electrical switch services if:
Your switch emits sparks when you flip it
Your switch doesn't always work
Your switch buzzes when it's on
Your lights flicker when they're on
Never ignore the problems with your electrical switches. Talk to us online or call us at 844-844-0314 to schedule an electrical switch repair.
Why Choose Service Today?
For over 70 years, Service Today has provided exceptional electrical services throughout the Mid-Atlantic Region. We pride ourselves on same-day service, 24/7 emergency service, and unparalleled honesty and integrity. When you want upfront pricing, experts on the job, and a 100% satisfaction guarantee, leave your electrical projects to us.
Make sure your home's electrical system is in the hands of true professionals. Contact Service Today online or call us at 844-844-0314 to schedule service.
Prepare for Warmer Weather with an AC Tune-Up!
Only $59
Expires 03/31/23
Excludes weekends & holidays. Mon-Fri 7:30 am - 4:00 pm only. Cannot be combined with any other advertised offer.
Hot Water Heater with 10-Year Parts Warranty
25% OFF
Expires 03/31/23
New 40 or 50 gallon gas or electric water heater installed Monday through Friday during regular office hours. Cannot be combined with any other offer or discount.
Summer Savings with a New Trane or Mitsubishi HVAC System
Save Up to $3,250!
Expires 03/31/23
Cannot be combined with any other offer or discount.
We Are Never Closed
We are available 24/7 for emergency service.
Unmatched Customer Service
We go above and beyond to ensure your comfort and safety.
Highly Trained
Technicians
We are committed to excellence and continuing education.
Unparalleled Honesty & Integrity
We always maintain an open line of communication.
100% Satisfaction Guaranteed
We prioritize your satisfaction above all else.
Peace of Mind
We make it right...right now, so you can regain peace of mind.