Smart Home Installation Services in Maryland & Delaware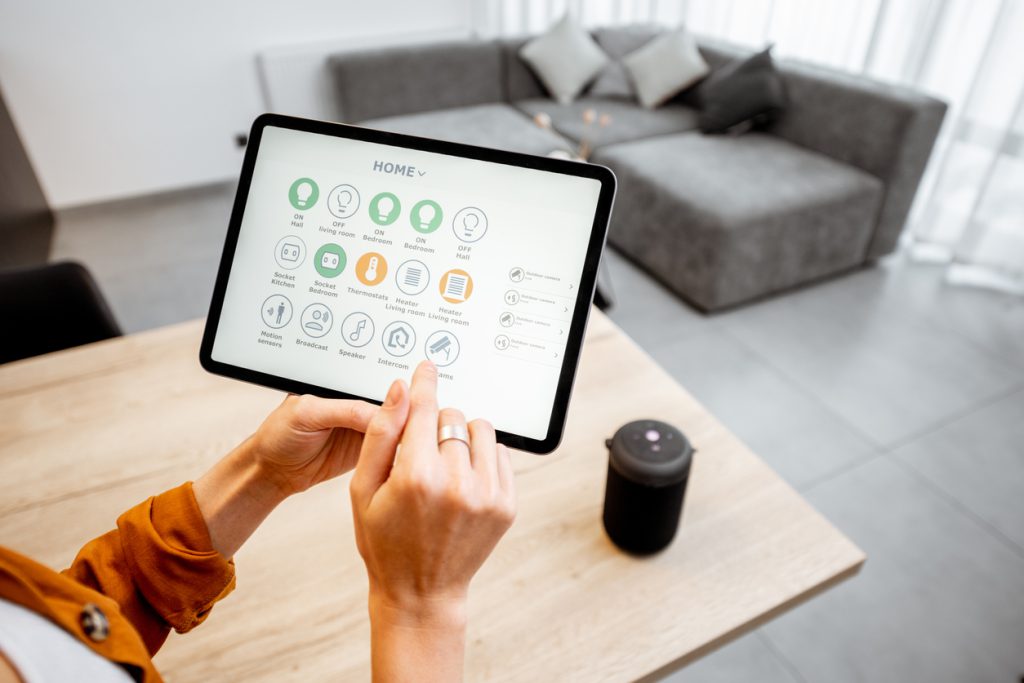 In today's fast-paced, technology-driven world, smart homes are gaining popularity. When expertly installed, smart home technology can maximize your home's energy efficiency while automating many aspects of your home. Service Today Heating, Air Conditioning, Plumbing and Electrical offers a wide range of smart home products and is here for all your installation needs.
For reliable smart home installation services, call 844-844-0314 to get started.
What Is Smart Home Installation?
Smart home installation connects vital aspects of your home, like your lights and appliances, to your mobile device. This allows you to automate or remotely control critical functions throughout your home, such as your HVAC, sprinklers, cameras, etc. More and more homeowners are investing in this technology because it's convenient and efficient.  
Benefits of Smart Home Installation
There are a wide array of benefits to a smart home upgrade, including: 
Increased security

Improved efficiency

Enhanced comfort

Greater control over energy use

Convenience and increased home automation 
Our Smart Home Upgrades
At Service Today, our team is up to date on the latest trends and cutting-edge technology in smart home products. We offer the following smart home services:
Security systems:

 A smart security system allows you to access and adjust your home's cameras and other security measures, whether home or away. 

Smart lights: 

With smart lights, you can program your home's interior and exterior lighting to turn off or on at specific times throughout the day to fit your routine. This is both convenient and energy-efficient. 

Thermostats:

 A wide range of smart thermostats give you greater control over your energy use, allow for remote operation, and can even create zone heating and cooling within your home.

Alexa integration:

 Our smart home solutions can also be integrated with Google's Alexa for voice-command control throughout your home. 
Choose Service Today for Smart Home Installation Services in MD & DE
When you choose Service Today's experienced technicians for your smart home needs, you can expect the following:
24/7 and same-day service

Unmatched customer service

Highly and factory-trained technicians

Unparalleled honesty and integrity in all we do

100% satisfaction guarantee

Upfront pricing

Background-checked and drug-tested technicians
Schedule a smart home installation today. Call Service Today at 844-844-0314
Frequently Asked Questions About Smart Home Installation
How long does smart home installation take?
Installation time depends on how many smart devices you want installed and your home's current connectivity. Most projects are completed within a few days to a week.
What devices do I need to make my home a smart home?
Typically, homeowners will install smart security systems, lights, and thermostats, but many options exist. Our team can help you determine your priorities and the best products to meet your needs.
How difficult is it to set up and maintain a smart home?
With Service Today, it's not difficult at all. We handle and coordinate all the setup and show you how to use your new system. Maintaining your system after that is as easy as using your mobile device.
$59
AC or Furnace Tune- Up
Expires 06/30/2023
Restrictions apply. Call for details.
$60 OFF
Any Plumbing Service
Expires 10/31/23
Restrictions apply. Call for details.
$60 Off
Emergency AC or Furnace Service
Expires 08/31/2023
Restrictions apply. Call for details.
We Are Never Closed
We are available 24/7 for emergency service.
Unmatched Customer Service
We go above and beyond to ensure your comfort and safety.
Highly Trained
Technicians
We are committed to excellence and continuing education.
Unparalleled Honesty & Integrity
We always maintain an open line of communication.
100% Satisfaction Guaranteed
We prioritize your satisfaction above all else.
Peace of Mind
We make it right...right now, so you can regain peace of mind.