Ductless Heating Systems

Financing Available*
HVAC Systems
Plumbing Systems
Repairs over $1,000
Why Ductless?
Ductless systems are the future of the heating and cooling industry and taking the country by storm. Ductless heating and cooling systems appeared in the US market about two decades ago. Advances in technology and efficiency have driven consumers to include these systems in the conversation when selecting a replacement heating and cooling system.
What is a Ductless Split System?
A Ductless split system is a highly efficient zonal heating and cooling system that does not require air ducts. Ductless split systems have an outdoor unit that can accommodate up to eight inside units, which are linked by a refrigerant line.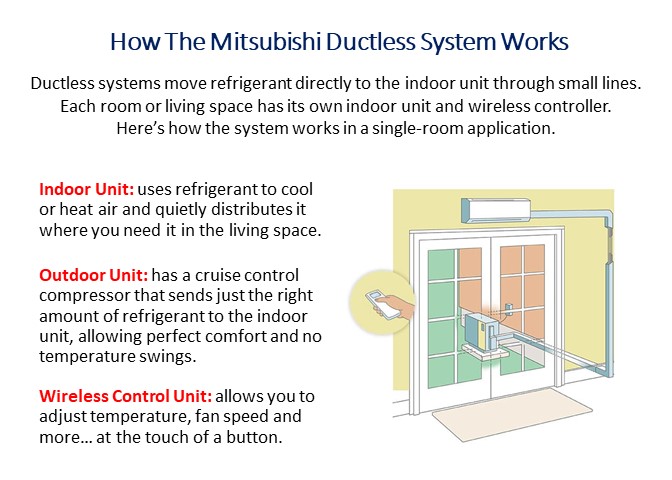 CHECK OUT OUR CURRENT DUCTLESS PROMOTION
Energy efficiency is key with a Ductless Split System
Much more efficient than traditional HVAC units.
Up to 40% more efficient than window A/C units.
Comfort control available in every room.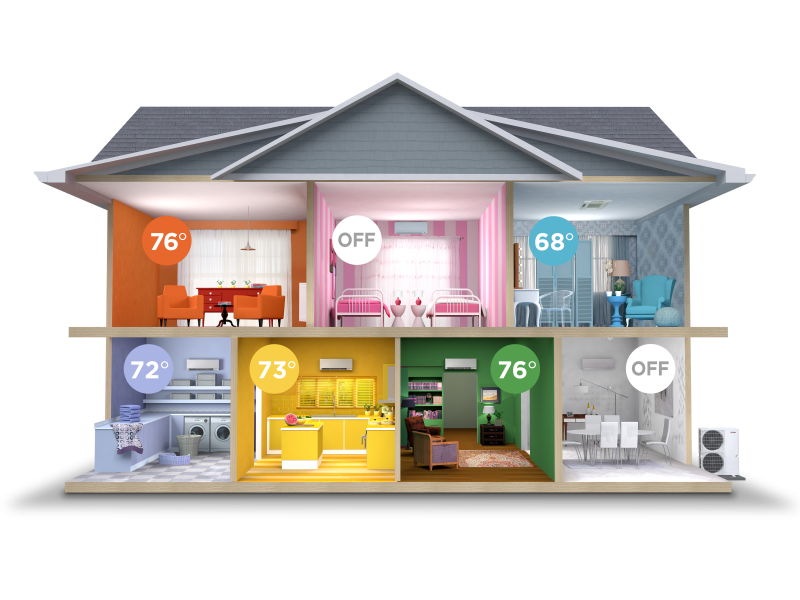 Is a Ductless Split System right for my home?
Ductless Split Systems are ideal for older homes, sunrooms, additions and replacement or supplementing inefficient heating and cooling systems.
What is the life expectancy?
Compared to a traditional electric HVAC system, a Ductless Split System generally has a longer life when maintenanced properly. A traditional electric Heat Pump average life expectancy is 15 years, with proper maintenance. A Ductless Split system average life expectancy is 20 years with proper maintenance.
Do they have to "hang on" the wall?
Good news! There are many different indoor units to fit all decors and applications in your home. The different indoor units are:
Traditional wall hung
Floor mounted or low wall mounted
Recessed ceiling models
Air Handlers
SCHEDULE YOUR FREE IN HOME ESTIMATE TODAY
Hot Water Heater with 10-Year Parts Warranty
25% OFF
Expires 07/31/2022
New 40 or 50 gallon gas or electric water heater installed Monday through Friday during regular office hours. Cannot be combined with any other offer or discount.
Stay Cool This Summer with an A/C Tune Up!
$59
Expires 07/31/2022
Excludes weekends & holidays. Mon-Fri 7:30 am - 4:00 pm only. Cannot be combined with any other advertised offer.
Any Problem - Plumbing, HVAC or Electrical!
$49
Expires 07/31/2022
We will be there today! Excludes weekends & holidays. Mon-Fri 7:30 am - 4:00 pm only. Cannot be combined with any other offer or discount.
We Are Never Closed
We are available 24/7 for emergency service.
Unmatched Customer Service
We go above and beyond to ensure your comfort and safety.
Highly Trained
Technicians
We are committed to excellence and continuing education.
Unparalleled Honesty & Integrity
We always maintain an open line of communication.
100% Satisfaction Guaranteed
We prioritize your satisfaction above all else.
Peace of Mind
We make it right...right now, so you can regain peace of mind.