The Down & Dirty About Flushable Wipes: Are Flushable Wipes Really Flushable?
Plumbing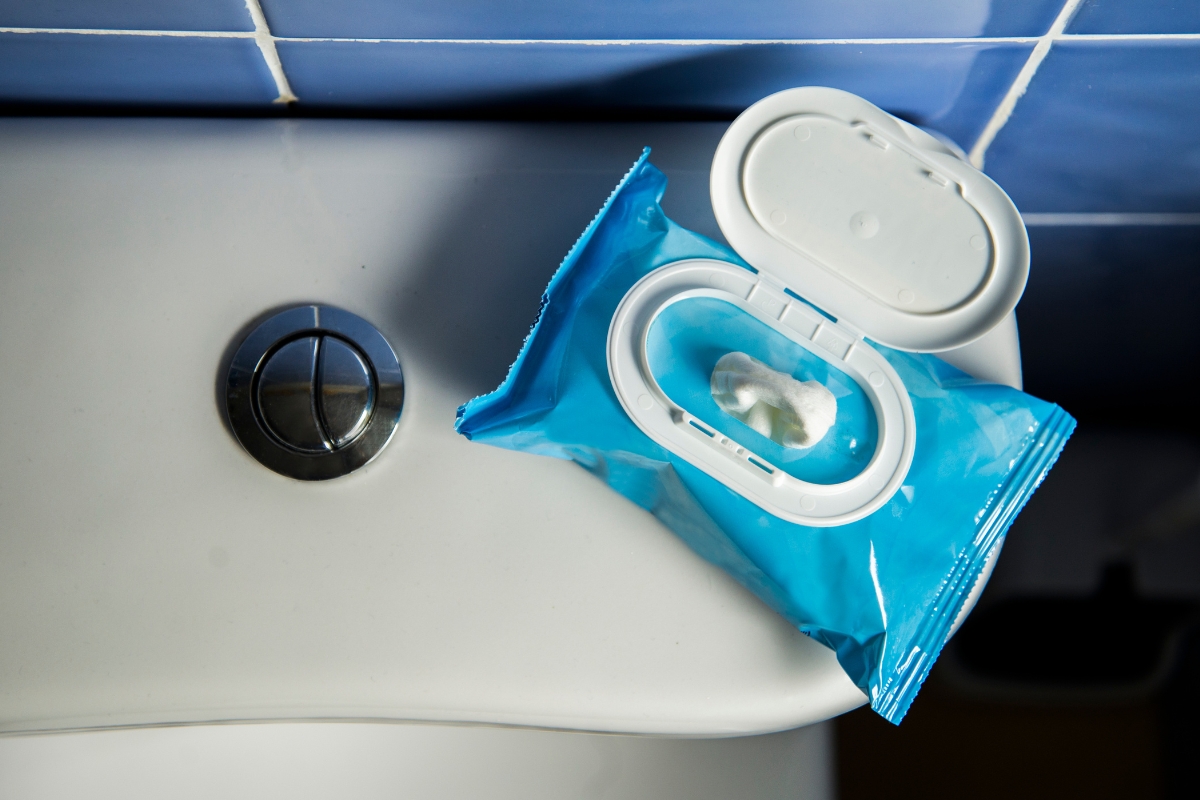 Here's the bottom line when it comes to whether you can flush so-called flushable wipes down the toilet.
What Is a Flushable Wipe?
Let's define what a flushable wipe is and how it is made. Many flushable wipes are made of long, synthetic fibers. They are pre-moistened with a cleaning solution and made to be more durable than toilet paper.
Wipes come in different forms, such as baby wipes, flushable wipes, makeup removal wipes, and household cleaning wipes.
What Happens to the Wipe When It's Flushed?
Traditional toilet paper is designed to disintegrate in the plumbing and sewage system. Unlike toilet paper, the materials used in making wipes mean most don't break down as easily.
The wipe may flush and disappear from the toilet bowl, but often that's not the end of the road. Wipes can get caught up in your drain and sewer lines or gunk up the public sewage system.
For homeowners on well and septic systems instead of a public sewer system, so-called flushable wipes could mean big problems. The wipes don't disintegrate fast enough for your septic system and can lead to a sewage backup on your property and a major septic tank repair job that could cost thousands of dollars.
How Should I Dispose of Wipes?
Your toilet should not be confused with your trash can. Only toilet paper should be put into the bowl and flushed.
All wipes are designed to be more durable than toilet paper and should be tossed in the trash, not the toilet.
Some wipes are made to break down in your plumbing system more easily than others, but it's tricky to know which ones. Rather than flush and fear, it's best to trash and relax.
Efforts For Better Labeling of Flushable Wipes
For years, local and state governments, including those in Pennsylvania, Delaware, and Maryland, have called for stronger labeling regulations for wipes to avoid consumer confusion and issues for the public sewer system.
Schedule Professional Drain Cleaning with Service Today
Wipes are convenient for cleaning household messes, removing makeup, and even cleaning your baby's bottom. However, improper disposal could cause a huge headache if the wipes clog your plumbing system.
If you have a clogged drain or sewer line, contact the team at Service Today. We can help with all your plumbing service needs, including drain cleaning. We also offer hydro jetting to clear stubborn sewer clogs.
We're always open, so we can make it right…right now! Call 844-844-0314 to schedule drain and sewer services in MD, DE, or PA.
No Interest November EXTENDED Through December!
0% APR for 48 months on qualifying Heating & AC Systems*
Expires 12/31/2023
*Restrictions apply. Call for full details.
Dryer Vent Cleaning
25% OFF
Expires 12/31/2023
Restrictions apply. Call for details.
$60 OFF
Any Plumbing Service
Expires 12/31/23
Restrictions apply. Call for details.
We Are Never Closed
We are available 24/7 for emergency service.
Unmatched Customer Service
We go above and beyond to ensure your comfort and safety.
Highly Trained
Technicians
We are committed to excellence and continuing education.
Unparalleled Honesty & Integrity
We always maintain an open line of communication.
100% Satisfaction Guaranteed
We prioritize your satisfaction above all else.
Peace of Mind
We make it right...right now, so you can regain peace of mind.