Appliance Wiring & Rewiring in MD & DE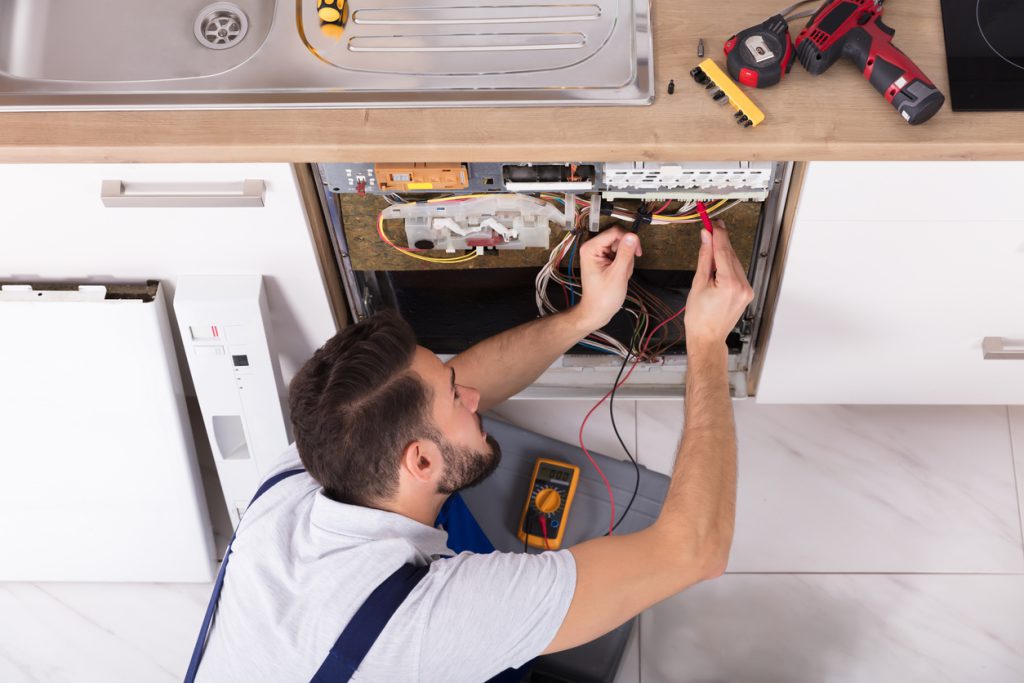 Are you experiencing electrical issues in your home? Ensuring that your appliance wiring is up to date and functioning correctly is essential. Outdated or faulty wiring can pose serious risks like electrical fires and electrocution. Appliance wiring requires specialized knowledge and expertise to get right. Hiring a professional for appliance wiring and rewiring is crucial for the safety and efficiency of your electrical system.
At Service Today Heating, Air Conditioning, Plumbing, and Electrical, we are the team you can trust to handle all your appliance wiring needs in Maryland and Delaware. Our experienced technicians have the skills to assess your wiring needs accurately, recommend the appropriate solutions, and carry out the wiring or rewiring process safely and efficiently.
Don't let outdated wiring put your family at risk. Call 844-844-0314 to request appliance wiring or rewiring from Service Today! 
Signs You Need Electrical Wiring or Rewiring
Outdated wiring poses significant risks to your home and its occupants. If you notice any of the following signs, it's crucial to have your electrical wiring inspected and, if needed, rewired by a professional:
A burning odor throughout the home

Aluminum wiring used in the home

Blown fuses

Burn marks on 

switches or outlets

Dim or flickering lights

Frequently tripped circuit breakers

Problems with outlets and switches

Sizzling, cracking, or buzzing sounds from outlets, switches, or appliances
If you experience any of these issues, don't hesitate to contact Service Today at 844-844-0314 to request a comprehensive electrical inspection and rewiring service! 
What Should You Expect During a Service Visit?
When you choose Service Today for your appliance wiring needs, you can expect a seamless and professional service experience from start to finish. Here's what to expect from working with our team:
Preparation: 

Our team will arrive at your location fully equipped with the necessary tools and materials. We will assess your wiring requirements and discuss the best course of action with you.

Installation:

 Our skilled electricians will perform the appliance wiring or rewiring process efficiently and precisely. We adhere to safety standards and regulations to ensure the longevity and reliability of your electrical system.

Satisfaction:

 With our 100% satisfaction guarantee, we go above and beyond to ensure that your rewiring service is performed accurately, safely, and efficiently for your utmost peace of mind.
Allow our team to provide the exceptional electrical service experience you deserve. Call us at 844-844-0314 to request appliance wiring or rewiring services today!
Choose Service Today for Reliable Wiring Services in MD & DE
When it comes to appliance wiring and rewiring, Service Today stands out as a trusted and reliable electrician. Here's why customers continuously trust our team with their wiring and rewiring needs:
Experienced Professionals: 

Our team consists of skilled and licensed electricians with years of experience in appliance wiring and rewiring projects.

Safety & Compliance:

 We prioritize safety and ensure that all our wiring services adhere to the highest industry standards and electrical codes.

Quality Workmanship:

 We take pride in delivering top-quality workmanship and using the best materials to ensure the longevity and reliability of your electrical system.

Timely, Efficient Service:

 We understand the importance of prompt service. Our technicians arrive on time, complete the job efficiently, and leave your premises clean and tidy.

Customer Satisfaction:

 Our commitment to 100% customer satisfaction is unwavering. We strive to exceed your expectations and provide exceptional service every step of the way.
Schedule wiring services with Service Today by calling our team at 844-844-0314 to book your appointment now! 
Frequently Asked Questions About Appliance Wiring
What type of wiring is used for appliances?
Depending on their power requirements, appliances typically require specialized wirings, such as dedicated circuits or specific wire gauges. Our professional electricians will assess your appliance wiring needs and ensure the appropriate wiring is used for each appliance.
How long does appliance wiring take?
The duration of appliance wiring or rewiring depends on various factors, such as the scope of work and the number of appliances involved. Our technicians will provide an estimated timeline during the assessment phase, ensuring transparency and keeping you informed.
Can I DIY appliance wiring?
Appliance wiring and rewiring should be left to professionals due to the complex nature of the electrical work involved. DIY attempts can lead to serious safety hazards, electrical failures, and damage to appliances or your property. It's best to rely on the expertise of a licensed electrician from Service Today to ensure a safe and reliable wiring installation process.
No Interest November EXTENDED Through December!
0% APR for 48 months on qualifying Heating & AC Systems*
Expires 12/31/2023
*Restrictions apply. Call for full details.
Dryer Vent Cleaning
25% OFF
Expires 12/31/2023
Restrictions apply. Call for details.
$60 OFF
Any Plumbing Service
Expires 12/31/23
Restrictions apply. Call for details.
We Are Never Closed
We are available 24/7 for emergency service.
Unmatched Customer Service
We go above and beyond to ensure your comfort and safety.
Highly Trained
Technicians
We are committed to excellence and continuing education.
Unparalleled Honesty & Integrity
We always maintain an open line of communication.
100% Satisfaction Guaranteed
We prioritize your satisfaction above all else.
Peace of Mind
We make it right...right now, so you can regain peace of mind.